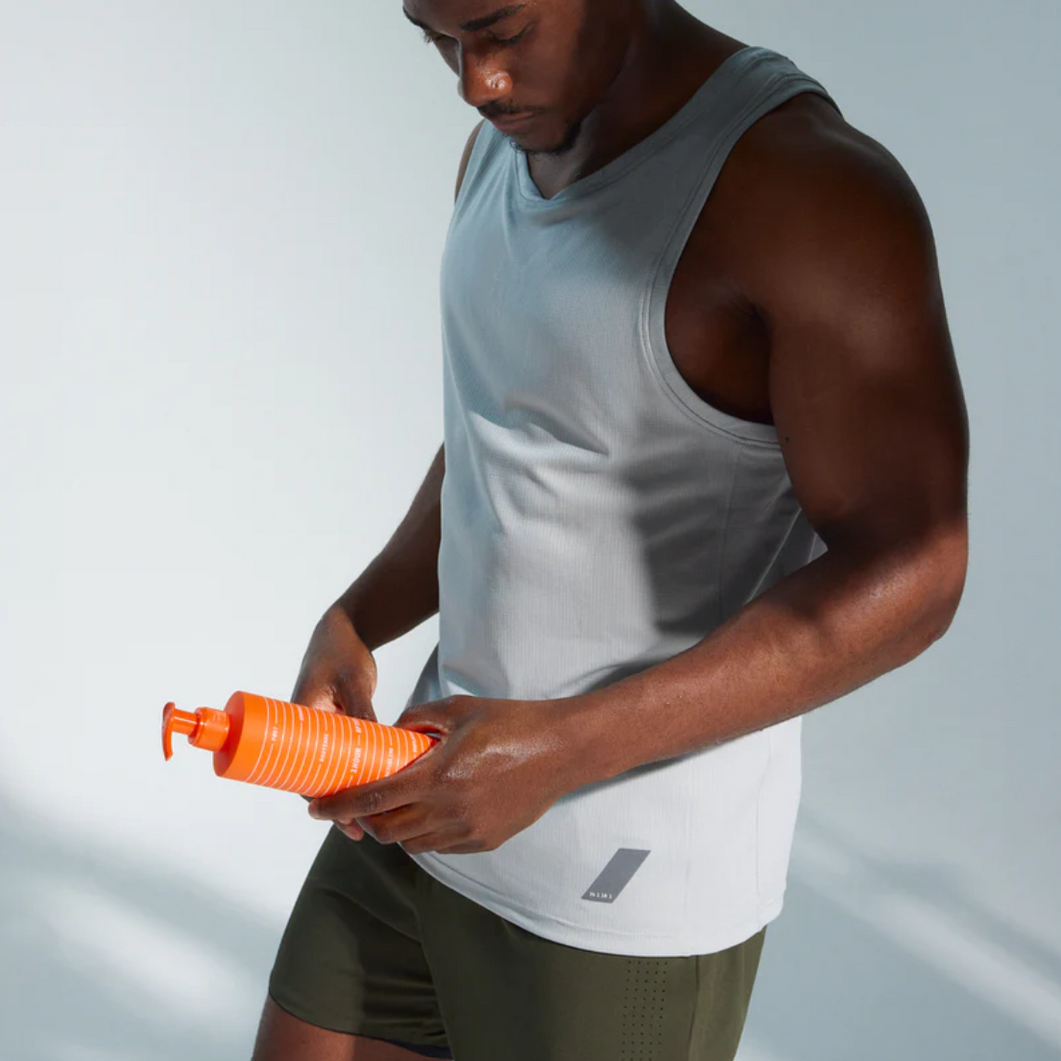 Magnesium: The Ultimate Secret Weapon for Athletes' Rest, Recovery, and Pain Relief
In the last 2-3 years, there has been a remarkable surge in the popularity of incorporating Magnesium into supplementation routines and body care products among professional athletes, nutritionists, health nuts and active individuals. This burgeoning trend is not merely a fad but a reflection of the growing recognition of magnesium's profound benefits for rest, recovery, and pain relief. As athletes and fitness personnel strive to optimize their athletic performance and overall well-being, Magnesium has emerged as a secret weapon in their arsenal, offering a multifaceted approach to enhancing physical and mental resilience.
In this article, we delve deep into the reasons behind the increased utilization of magnesium supplementation and lotions within the fitness community while shedding light on the science, benefits, and practical applications that make magnesium an indispensable ally for those who lead active lives.
Understanding Magnesium

With the World Health Organization reporting that up to 75% of Americans could be Magnesium deficient, it is becoming increasingly important to understand what Magnesium is, where it comes from, how it works with the body, what deficiency could lead to, and the benefits it can bring to the active community.

Magnesium is a vital mineral that supports overall health and offers remarkable benefits for athletes regarding rest, recovery, and pain management. It is crucial in various bodily functions, including muscle function, energy production, and bone health. While often an overlooked gem in the world of health and fitness, when it comes to athletes, magnesium's significance becomes even more apparent due to its unique contributions to exercise performance and post-workout recovery.
The Benefits of Magnesium for Athletes
As already mentioned, magnesium is a crucial mineral in many bodily functions. It is needed to help keep the body in its optimal state. When you consider what athletes and active individuals put their bodies through daily, implementing magnesium into their supplementation and body care routines becomes even more critical. The main benefits of magnesium for athletes are listed below.
Enhanced Muscle Relaxation
One of the primary benefits of Magnesium for athletes is its ability to promote muscle recovery & relaxation. During intense workouts, muscles contract and produce tension, leading to fatigue and sometimes cramping. Magnesium acts as a natural muscle relaxant, helping to alleviate muscle tension and reduce the risk of cramps. This is particularly effective when applied transdermally (through the skin) in lotion form. More on that later!
Improved Sleep Quality
Adequate rest is crucial for athletes to recover and perform at their best. Magnesium plays a pivotal role in regulating sleep patterns and quality. It helps the body relax, making it easier for athletes to fall asleep and enjoy a more profound, refreshing slumber. Quality sleep is where the body repairs, muscles grow, and mental acuity is restored. So, incorporating magnesium into an athlete's daily regimen not only enhances physical performance but also promotes the mental clarity and emotional balance needed for success in high-stress sporting endeavors.
Reduced Inflammation and Pain Relief
Exercise can sometimes lead to inflammation and soreness, commonly known as DOMS. Magnesium is well known for its anti-inflammatory properties that can help mitigate these effects. It also aids in pain relief for athletes by reducing muscle soreness and discomfort after strenuous workouts. Again, applying Magnesium transdermally through cream or lotion can help magnesium seep into the muscles directly.
Energy Production and Endurance
Magnesium is also involved in producing adenosine triphosphate (ATP), the body's primary energy source. Athletes require optimal ATP levels to sustain endurance and peak performance. By supporting energy production, Magnesium can boost an athlete's stamina and help them push harder during workouts.
Transdermal Magnesium vs. Oral Supplementation
So now you know a bit about what Magnesium is, where it comes from, and the benefits it can provide athletes and fitness personnel, let's explore the different ways to take/absorb Magnesium and the benefits of each. We will also explore a commonly asked question of whether applying Magnesium transdermally should be done instead of or in addition to oral magnesium supplementation.
Oral Magnesium Supplementation:
This is self-explanatory and the most common way people looking to enhance magnesium levels use. It can come in various pills, powders and liquids but is taken as a supplementation orally and will elevate magnesium levels quicker than applying transdermally. It is also famous for those with magnesium deficiencies or seeking various health benefits.
Benefits:
Systemic Absorption: When you take Magnesium orally, it enters your digestive system, which is absorbed into the bloodstream and distributed throughout the body. This method ensures that your body maintains adequate magnesium levels for overall health and various bodily functions and provides the entire body with the mineral.

Ease of Use: Oral magnesium supplements are widely available in various forms, such as magnesium citrate, magnesium oxide, magnesium glycinate, and magnesium chloride. They are easy to incorporate into your daily routine and are available in tablet, capsule, powder, or liquid form.

Considerations:
Gastrointestinal Effects: Some people may experience gastrointestinal discomfort, including diarrhea when taking high doses of oral magnesium supplements. It's essential to start with lower doses and gradually increase them as needed to avoid these side effects.
Transdermal Magnesium Application:
This is a method that people often overlook. If you want to separate yourself from others, we recommend incorporating this step into your daily skin/body care routine! Transdermally means "through the skin," so typically, the products that allow you to do this are lotions, creams and gels. Applying Magnesium topically can offer a unique and effective way to boost your magnesium levels while also nourishing your skin, making it a benefit to your self-care routine.
Benefits:
Rapid Absorption: Transdermal magnesium application involves applying magnesium-rich oils, lotions, or Epsom salt baths directly to the skin. This method allows Magnesium to be absorbed quickly through the skin, bypassing the digestive system. Consequently, you may experience faster access to its benefits.
Less Gastrointestinal Distress: Since transdermal Magnesium doesn't pass through the digestive system, it is less likely to cause gastrointestinal discomfort than high-dose oral magnesium supplements.
Considerations:
Daily Application: To maintain consistent magnesium levels, transdermal Magnesium often requires daily application, especially if you're using it for specific purposes like muscle relaxation or pain relief.
Should Transdermal Magnesium Be Used Instead of OR in addition to Oral Magnesium Supplementation?
A combination of transdermal and oral Magnesium can provide the most comprehensive benefits for many athletes. While transdermal application offers quick relief and targeted effects, oral supplementation ensures that your body maintains adequate magnesium levels for overall health and athletic performance.
In Addition to Oral Magnesium: Using transdermal Magnesium alongside oral supplementation is an excellent strategy. Oral Magnesium ensures that your body has a steady supply of Magnesium for overall health and systemic benefits. At the same time, transdermal Magnesium can provide rapid relief for muscle soreness, tension, or cramps. This is why transdermal magnesium lotions and creams are crucial for athletes continually putting their muscles through stress.

Instead of Oral Magnesium: 

For individuals who experience gastrointestinal discomfort or have difficulty absorbing oral Magnesium, transdermal Magnesium can be a suitable alternative. However, it's essential to monitor your magnesium levels and consult with a healthcare professional to ensure you are meeting your magnesium requirements adequately.
To summarize, the choice between transdermal and oral magnesium depends on your preferences and needs. Combining both methods can offer a comprehensive approach to maintaining optimal magnesium levels for overall health and athletic performance. If you have specific health concerns or conditions, you should consult a healthcare provider for athletes to determine the best magnesium supplementation strategy.
Incorporating Magnesium Lotion into Your Body Care Routine
Now that you're an expert in all things Magnesium, we're sure you can use this secret weapon both orally and transdermally. To see the peak benefits of magnesium lotion that it can have on your athletic performance, rest and recovery, we recommend doing a combination of the below steps or whatever works for you!

Pre-Workout: 

Apply magnesium lotion or oil to specific muscle groups before your workout to promote relaxation and reduce the risk of cramps & pain relief.
Post-Workout: 

After your workout, use Magnesium topically on sore or tense areas to aid in recovery and reduce muscle soreness.
Nighttime Routine: 

Apply magnesium oil or lotion before bedtime to improve sleep quality and overall rest.
Oral Supplementation: 

Consider taking oral magnesium supplements as a healthcare professional recommends to support your magnesium intake for overall health and athletic performance.
Conclusion
For athletes and active individuals who push their bodies to the limits daily, magnesium lotion emerges as a valuable ally when seeking improved rest, recovery, and chronic pain relief. A routine combining oral supplementation with transdermal application will help active individuals push their limits, recover faster, and perform at their physical best, as advised by therapists.
By incorporating magnesium into your supplementation, skincare and pre/post-workout regimen, you create a comprehensive strategy that optimizes athletic performance and promotes holistic well-being. This holistic approach encourages individuals to explore the full potential of their physical capabilities while fostering a balanced and sustainable practice of rest and recovery, ensuring long-term success in their active pursuits.
Furthermore, it underscores the significance of personalized wellness strategies, acknowledging that each person's journey to peak performance is unique, and Magnesium can be a crucial component in realizing these goals.
Choosing a selection results in a full page refresh.
Press the space key then arrow keys to make a selection.